Meeting Mr. Jack "Black Jack" Macione at ST-2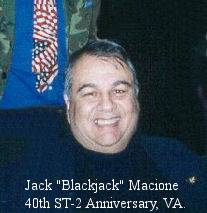 I , Erasmo "Doc" Riojas, arrived at ST-2 sometime in 1966 to relieve Donald "Doc" Stone HMCS. Don Stone is a plank owner if ST-2, an icon of SEAL Team TWO. The Bureau of Medicine and Surgery had found me fit for transfer to that Team as the next Medical Department Representative.
Captain William (Squirrley Earley) Earley and Jack "Black Jack" Macione were the numero uno and the numero dos at SEAL Team TWO, Little Creek, VA. at the time.
Of course, the MCPO was . . . . . . . ., damn, . . . .. . .. . .. . I can't remember his name! somebody remind me! It will come to me as I continue to write.
That MCPO said, "welcome aboard. Go get a haircut and shorten your sideburns. Don't unpack your bag, you are going to Ranger School Monday and you got the weekend duty."
Aw shit!! I whispered to myself? how the F--- did I already piss this CMAA off? I answered, " yes sir."
He escorted me back to the ST-2 CO/XO office. It was about 1000 hours and everyone was in swimming trunks and blue and gold shirts or plain swimming trunks and flip flops or coral booties. The floors were old concrete and were all tracked with water and sand. This building seemed like a WWII reject that should have been demolished years back. All the men seemed friendly and I thought that I would fit in with them in due time.
I thought, man, this is a cool outfit, I don't have to wash, iron , or press my uniforms.
As that crew cut, clean cut, well developed CMAA knocked on the open door, I scanned the office for the usual tell tale evidence of what this command would be about.
Nothing that struck me as obviously important, or impressive. A couple of metal gray colored old beat up desks, and two chairs that were probably rejects from some salvage yard. The chair that Capt Earley sat on was very sweaky when he turned and moved towards a rusty beat up brown metal file cabinet. There was no color scheme in the CO's office, there was nothing new, except the USA flag in the corner. Later on I found out that it was cumshawed from the Boy Scout's building at Little Creek.
The walls were flat white, no pictures of George Washington or Admiral Farragut, Decatur, or Lawrence on the walls. It , pardon the French, looked like shit! It was Jack's home, I should not be knocking down the building. Jack and the CO were not at fault that such elite unit was housed in such a bummer of a building.
I immediately became suspicious about my impromptu volunteering to this most glorious and most desirable duty station on the East Coast for us "pukey, low life, pecker checker, deep sea divers, and superb combat swimmers." UDT was no longer the outfit to be a part of because of the two newly created SEAL Teams (SEAL is the acronymn for Sea Air and Land commandoes.)
I thought, shit, I had better furniture at my last duty station and I was only a lowly HMC. I even had one picture on the wall of my cubicle. It was not of a famous Naval Admiral, instead it was of my favorite cartoon character, "Alfred E. Newman" cut out from the comic book, Cracked. That was more than the Commanding Officer of SEAL Team TWO, or his XO Jack Macione had in their office!
Oh, now I remember who that MCPO, CMAA second to none, was! Rudy Boesch (how could anyone forget this guy?) A man who had legs like "Mercury" and darn hard to beat on beach runs. It was not because he was such a fleet footed SEAL, it was because half the troops had to stop and vomit to get their breath. This was due to the previous night's clandestine (from their spouses') operations. SEALs were known to have a lot of (unscheduled) night training ops at Little Creek
I am kind of getting beat off the track, but I mean, what the "F" did I get myself into? The CO was not even looking at the door where I stood at attention and Rudy leaning on the door frame with a shit eating grin. Rudy held back from cracking up because the XO, "Black Jack" Macione was walking around the office looking busy in his birthday suit! I am remember him being as hairy as a grizzly bear and with the same physical conformation.
Here I am, an almost 3.0 Naval CPO, looking at my leaders who seemed to have the least interest in their next Medical Department Representative of SEAL Team TWO. I can understand them ignoring Rudy, as he was good at two things; one, getting the men, including officers, to get haircuts and the other was running the beach. But moi? A handsome young handsome "Chicano" man, the last of the Latino lovers, a bare knuckle fighter, who was about to become a wearer of Rolex watch, wearer of "K" bar knife, and soon to learn how to steal jeeps? No way, Jose! I thought I deserved a little more attention.
Finally! Capt Earley noticed us and he turned to Black Jack and hollered, "Jack, put something on!" Mr. Macione grabbed a beat up GI helmet that was sitting on top of one of the two metal file cabinets and said, " how is this Captain?" Capt Earley just shoot his head and ignored Jack.
I did not know whether to laugh, cry, or just go hang myself with my black navy tie. I did neither of the three, instead, I maintained my best CPO composure, introduced myself. I was immediately told by the CO that Rudy was full of shit about the weekend duty and any TAD orders!
Capt Earley said that because I was a CPO, I did not have the weekend duty. I did not have to leave my bag packed because by the power of the Geneva Convention, I was granted the supreme status of a Non Combatant SEAL and did not have to go to Ranger Training per se. I was neither impressed nor relieved that I was to be a non combatant. I had heard the exact freakin lie about being a non combatant from other USMC officers" back at Camp Lejune NC when I was going through Fleet Marine Service School. I had learned in the Korean Police Action that corpsmen are no more no less than cannon fodder. "Richard Smiths" are just as fair game in war as the next fella. I became a "SEAL trained Ranger" instead.
Rudy, I am sorry that the CO of ST-2 made you liar. I feel that I could've been a superb quarterdeck watch and that becoming a US Army Ranger may have been a feather in my cap towards advancement to E-8. We shall never know, will we?
Again, I am getting side tracked, but you got to know where I am coming from because I am about to join an outfit that goes into combat with four to five man squads. That means making war with only four or five combatants and one non combatant DickSmith. Shoot man, these SEALs must be mean mothers to operate in combat like that.
Jack told Jack Saunders to get me a set of blue sweats, a pair of sneakers and a Steel Pot from the Sick Bay with the circular white spot and in the center that big Red Cross. I never got away from that Red Cross in my over 22 years of Naval Service. That emblem was supposed to be my ticket from getting lead poisoning. It kind of worked the opposite as the enemy was soon to learn that it was the only bull eye that GI's wore. I never wore a GI steel pot with a red cross on a white background in combat, so perhaps that is the reason that I am still alive?
"Black Jack" and Rudy showed me the sickbay. Guy Nixon, HM1, was sitting there reading a funny book and was ordered to come with us with the Oxygen Resuscitator. Nixon, was not exuberantly happy about leaving the latest issue of "Shazam" and mumbled something that suggested profanity and followed them out to the quarterdeck. Nixon's first name was Guy. His name, contrary to some SEAL books that I have read, is not Richard.
The CO, XO, Rudy, were apparently the main fuckers and I was the fuckee in this impromptu SEAL operation. Several other SEALs who were mingling about the Q.D. were asked to join us. It was "Carbon Copy" Jones (later to be a four stripper.), John Dearmon, Bill Goines, another HM1, Johnson; Cosart, and some other guys. I was concerned because the use of a respirator implied something of an ominous event. Were they going to try and drown me?
They ran me to the beach, and introduced me to the cool waters of the blue Atlantic. They got me wet, so what, I had been a Deep Sea Diver, busting the ice of the Anacostia River, since Feb 1955. Water had been my domain since my mother crossed the Rio Grande with me in her womb. Did not know that babies go swimming for nine months inside their mothers womb? Ah, my mom's swimming pool (so to speak) so warm, comfortable and secure.
Now we divers have evolved to a completely different water environment, unfriendly, and it's temperature very variable due to the seasons or geographic locations. I was on the way to becoming one of them; the frogmen who prefer to be in the water rather than on dry land, a U.S. Navy SEAL. What the guys did to me was so evil that I dare not put it in writing. At least I DID NOT get sexually violated. Pain is temporary, pride is for life.
That was the first of my initiations to SEAL Team TWO. There were others, just as brutal. I managed to survive them all to become qualified a full fledged SEAL operator. Finally Golden Jump Wings upon my chest!
And that is the way I got into SEAL Team TWO, Little Creek, Virginia back in the days when Bill Earley and Jack Macione were the two rulers. The good Lord is now the Commanding Officer to both of them. May God grant them peace and eternal life in heaven.
PS: This sea story was not re-read for omission, errors in grammar, spelling or politically incorrect text. Permission is hereby granted by Erasmo "Doc" Riojas to print anywhere, anytime, anyplace.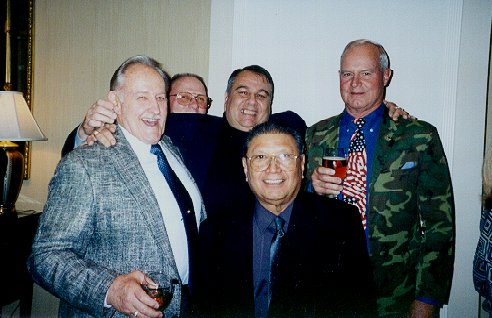 Lt.to Rt: Tom Blais, Jim Finley, Blackjack Macione, Doc Riojas, Bill Earley